Fluevogologist | Part time (Brooklyn)
Fluevog Brooklyn/DUMBO is looking for a stellar sales associate to join their team! If you love shoes and want to help the good people of your city find their solemates, we want to hear from you!
We usually respond within two weeks
Our Fluevogologists are the heartbeat of our stores, our "raison d'être", our key link between our fabulous customers and our nearly equally fabulous styles. Fluevogologists are diverse, weird and wonderful, and make each of our stores unique in their welcome for all. This role is a magical combo of customer service, sales, and style.
The role of a Fluevogologist is to support the Store Manager, to be an amazing human being, and to champion the store and company's values and goals in connecting our customers with the shoes of their dreams.
We are currently looking for part-time help with weekend availability to support our busy shopping weekends at our DUMBO store.
"Sounds amazing! This is literally my dream job. What am I going to be doing every day??"
Customer Service: Assist customers with purchases and go above and beyond to help find solutions to any and every issue a customer may have.

Community: Connect our customers to the greater Flumumunity by assisting with engagement efforts such as in-shop events.

Sales: Focus on driving personal sales as well as working with the team towards group sales goals.

Product: Demonstrate product knowledge and confidence, offer suggestions, and share shoe care knowledge.

Merchandising: Assist with merchandising by making sure shoes are presented well and displays are tidy.

Payment Processing: Collect customer payments and personal information at the POS. Participate in the web order process, including offering accurate sizing advice where needed and processing and packaging all web orders accurately.
Necessary knowledge, skills, and abilities (KSA's):
Brand knowledge

Ability to provide a solid high-five

Superior people skills

Recycles responsibly and cares for the planet

Exemplary communication skills

A grateful spirit

A tenacious, can-do attitude

A fearless sense of personal style

Patience

Enjoys not taking oneself too seriously
Qualifications
Fluevogologist must-haves:
Basic computer and technology skills (Gmail, iOS, internal POS software)

Minimum of 1-3 years sales experience

Below-average karaoke skills

Positivity, creativity, and a willingness to learn

A real understanding and eagerness to foster community and build trusting relationships

Physically able to perform all in-store tasks such as lifting up to 25 pounds, kneeling and crawling around the floor (funny, but true!), climbing ladders and stairs, and standing for up to eight hours.
What's in it for you?
Competitive retail salaries

Individual store projection bonuses

Internal Artist Grant funding in support of all kinds of creative ventures

Amazing HQ and recruiting support who also write great job postings
(And, the part we know you actually came here to see…)
!!! In-store discounts !!!

!!! Earn Shoe Dollars for in-store credit (yes, that means free shoes!!) !!!

...and let's be honest, the funnest retail job you've ever had.

About Fluevog Store Teams
Fluevog Brooklyn is a retail team of hard-working, collaborative, creative, human-friendly professionals. We are thankful, open-minded, passionate about nurturing talent, and take celebrating birthdays and special occasions very seriously. Besides shoes, some of our shared interests include crafting, thrifting, travel, sunshine, and donuts.
Our people are creative, diverse, and proud of being "weird"! Fluevog is a fit for everyone regardless of shoe size, and we are committed to building inclusion into every aspect of our culture for our Fluevog community. If we can help make this The Best Recruiting Process Ever by helping you out with an accommodation due to a disability, please indicate when requested in the interview process and we'll keep it confidential. Our HR Manager will reach out to make sure our intro with you is just as good of a fit as our style.
 
Department

Retail

Role

Fluevogologist - PT

Locations

Brooklyn, NY

Hourly salary

$22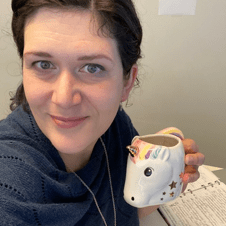 Contact
Erica Lydell
People & Culture Director – People & Culture
About Fluevog Shoes
John Fluevog is an independent designer and retailer of forward-thinking footwear and accessories. Since 1970, John has been steadfast in creating 'unique soles for unique souls' that have been seen everywhere from the feet of artists like Madonna, Beyoncé, Lady Gaga, and Jack White, to the runways of high fashion. Some of his earliest customers include The Beach Boys, Alice Cooper, filmmaker Robert Altman, and a slew of slightly less famous (but no less amazing) Fluevogers.

Traditionally made in old-world factories, Fluevog shoes are produced in small runs, are fully repairable, and—with their quality and timeless luxury—always stand out in a crowd. When you wear a pair of Fluevogs, you're stepping into decades of traditionally crafted untraditional designs.

As you soak up the steady flow of comfort, confidence, and compliments, you'll quickly begin to wonder what you ever did without Fluevogs on your feet. Whether it sticks in your mind as Foofarg or Vlueflag, Fluevog is a name usually mispronounced, but seldom forgotten.
Fluevogologist | Part time (Brooklyn)
Fluevog Brooklyn/DUMBO is looking for a stellar sales associate to join their team! If you love shoes and want to help the good people of your city find their solemates, we want to hear from you!
Loading application form
Already working at Fluevog Shoes?
Let's recruit together and find your next colleague.